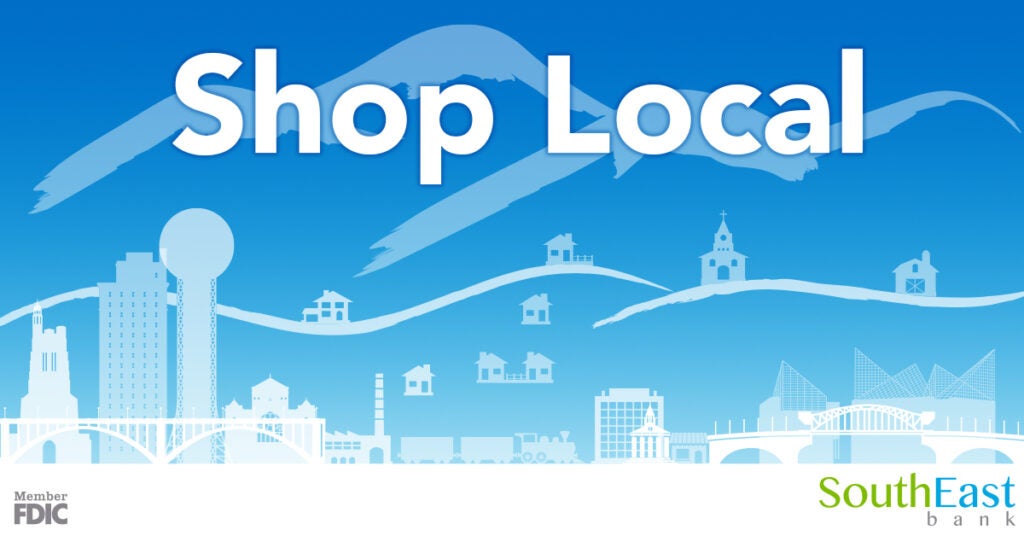 Locally owned businesses are at the heart of everything our communities do, creating jobs and helping our economies to grow and thrive. Small Business Saturday® is dedicated to supporting these important organizations.
To celebrate this special day, we visited 14 local businesses in the Middle and East Tennessee communities. We look forward to sharing their stories with you, knowing that your support makes a big impact on small businesses.
Master Barber: Laith Al-Tamimi
804 Riverfront Pkwy Suite120, Chattanooga, TN 37402
When you visit Salon Royval, you'll feel like you've made an instant friend in Laith Al-Tamimi, the shop's head barber. He greets his customers by name and has known many of them for several years, with some who have traveled with him to different shops throughout his career.
Beginning with the humble roots of cutting hair in his college dorm room, Al-Tamimi's talent soon developed into an advanced skill – one that he's perfected over the years and that has even earned him some celebrity clients. "I started in a college dorm room, and from there, I turned it into a career," Al-Tamimi said. He shared that cutting hair has helped him to find direction and to make a real impact on the community. "The power behind the chair is incredible," said Al-Tamimi. "I think what I enjoy the most is the opportunity to learn about people and to educate others in the industry."
He says he and his clients develop a special type of relationship, and each appointment is a 30-minute opportunity for him to connect with someone and learn their stories. He said he's built trust with many of his clients, and often, they'll confide in him about plans, worries and things that are happening in their lives. "It's something far more significant than just a haircut. You're creating an experience," Al-Tamimi said.
Perfect Form: Reach Health and Wellness Chiropractic
5564 Little Debbie Pkwy #108, Collegedale, TN 37363
Dr. Ryan Lee had originally planned to pursue a career in physical therapy. Everything changed, however, after one of his early internships led him to a chiropractic office, where he realized the life-changing impact the profession had on patients. "You'd see patients with asthma getting adjusted and suddenly having a relief of symptoms," Lee said. "And I thought, 'wow, there's really something to this.'"
Lee attested that chiropractic services have also improved his own life, alleviating some of his allergy symptoms and making him feel healthier and happier. He loves working with patients and making a positive difference for each of them. "We have the best patients there are," Lee said. "I always thank my community so much for what they've given back to us." The next time you're considering a chiropractor, be sure to keep Reach Health and Wellness Chiropractic in mind.
Coming Up Roses: Flowers 'n' Things
27 Mouse Creek Rd NW, Cleveland, TN 37312
Walking into Pam Pennington's shop is a bit like walking into a fairy tale. It's filled with illuminated branches, blooms draped across doorways, Christmas trees decked with elaborate ornaments and twinkling lights. It's clear that the company, located at 27 Mouse Creek Rd NW in Cleveland, is a reflection of Pennington's imagination, skill and attention to detail.
Pennington began her career as a florist early. She started working at a local shop in Jackson, Mississippi, then after moving to Nashville, became the manager for another florist location. She said she loves "a little bit of everything" about her job, from holiday decorations to embellishing her customers' homes for the different seasons. Her business has been thriving.
Though Pennington has owned the business for two years, she shared that the shop is an area staple and that it has operated for 42 years. "It's something I enjoy," Pam said, explaining that she sees the store's longevity as a testament to its success. "And it's an accomplishment for a small business."
Pennington explained that she loves the community that comes with running a local business, as well as the joy she feels from customers during the holiday season. In the coming months, she's looking forward to celebrating the spirit of the season with "giving, friends and family." Pennington's aptitude for design and friendly attitude make it easy to see why a visit to Flowers 'n' Things puts her customers in a cheery mood, both during the holidays and year-round.
If you've enjoyed Small Business Saturday so far, then be sure to visit our Small Business Saturday page for details on even more fantastic local organizations!