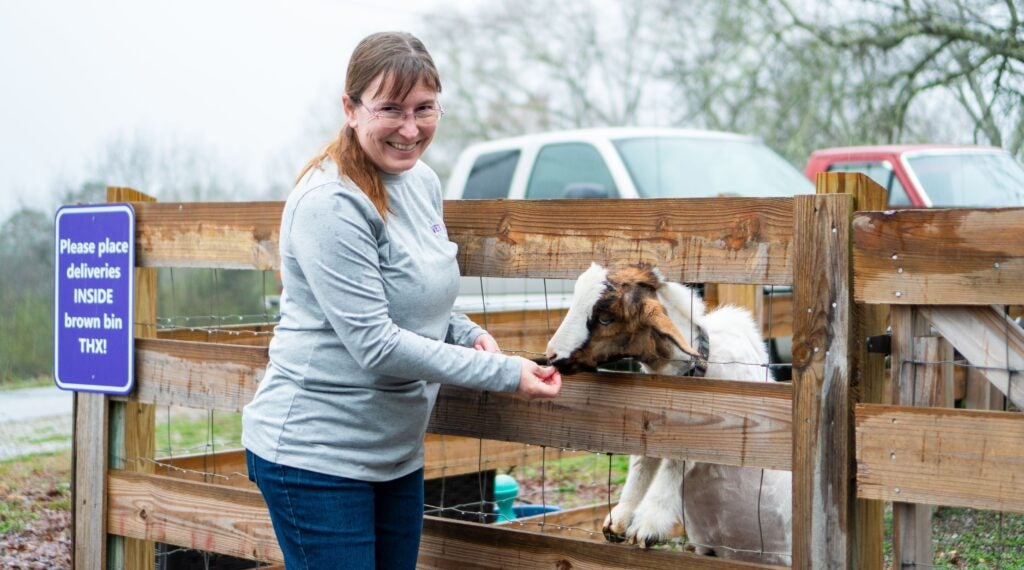 Dr. Alison Gussack has devoted her career to caring for animals.
The Atlanta native currently serves the healthcare needs for pets in the Chattanooga area through a unique business model. Rather than ask loving pet owners to come to her office, she comes to them.
Since 2011, Dr. Gussack's business, Vet2Go, provides in-home care for pets through personalized house calls. Whether it's sick or wellness checks, vaccinations, chronic disease treatment, or any number of other procedures, Dr. Gussack can provide the necessary care for your pet right in your own home.
"The idea really came from not wanting to work in a building for hours a day," says Dr. Gussack. "I wanted to do something different."
What came from this desire was a growing business with new clients reaching out from across Chattanooga and the surrounding communities. Dog, cat, goat, pig, bird, horse, and other pet owners call on Dr. Gussack for their pet care needs for the furry members of their families.
Even during the pandemic, Vet2Go was able to grow in customers because of Dr. Gussack's easily adaptable business model. Rather than ask pet owners to wait in the vehicles for appointments, the Vet2Go team can provide care for your pet in the comfort of your own home.
The journey to reach this point in her career, however, took several years of hard work.
Dr. Gussack graduated from the University of Tennessee's College of Veterinary Medicine in 2002 after working 20 years as a veterinary assistant. Upon graduation, Dr. Gussack went on to work for other veterinary clinics before deciding to go out on her own.
It was at this point where Dr. Gussack realized she needed a partner to see her dream become a reality. After being turned down by larger banks, she turned to SouthEast Bank.
"To be honest, I don't know if it would've happened if it wasn't for SouthEast Bank," says. Dr. Gussack. "I'm very grateful for them because they gave me a chance when other people wouldn't."
Since her practice was visiting patients at their homes, Dr. Gussack was able to keep her costs low aside from purchasing basic essential equipment. To make this initial investment, however, Dr. Gussack turned to SouthEast Bank for a loan to get her business started.
As Vet2Go continues to thrive, SouthEast Bank has been able to provide a line of credit to Dr. Gussack and her staff as a way to make necessary purchases.
While the needed funds have made a significant difference, it's the customer service and human connection that has created a bond for Dr. Gussack with SouthEast Bank.
"For me, it's the personalized experience," says Dr. Gussack. "I'm still working with the people that got me the loan."
Today, Dr. Gussack has two employees and an ever-growing client list. But even after ten years working together, SouthEast Bank is continuing to partner with Vet2Go as Dr. Gussack and her staff care for the pet needs of Chattanooga.
"They've been very supportive over the years," says Dr. Gussack. "That's why I'm still there."
---
Note: Links to other websites or references to services or applications are provided as a convenience only. A link does not imply SouthEast Bank's sponsorship or approval of any other site, service or application. SouthEast Bank does not control the content of these sites, services or applications.
Information contained in this blog is for educational and informational purposes only. Nothing contained in this blog should be construed as legal or tax advice. An attorney or tax advisor should be consulted for advice on specific issues.