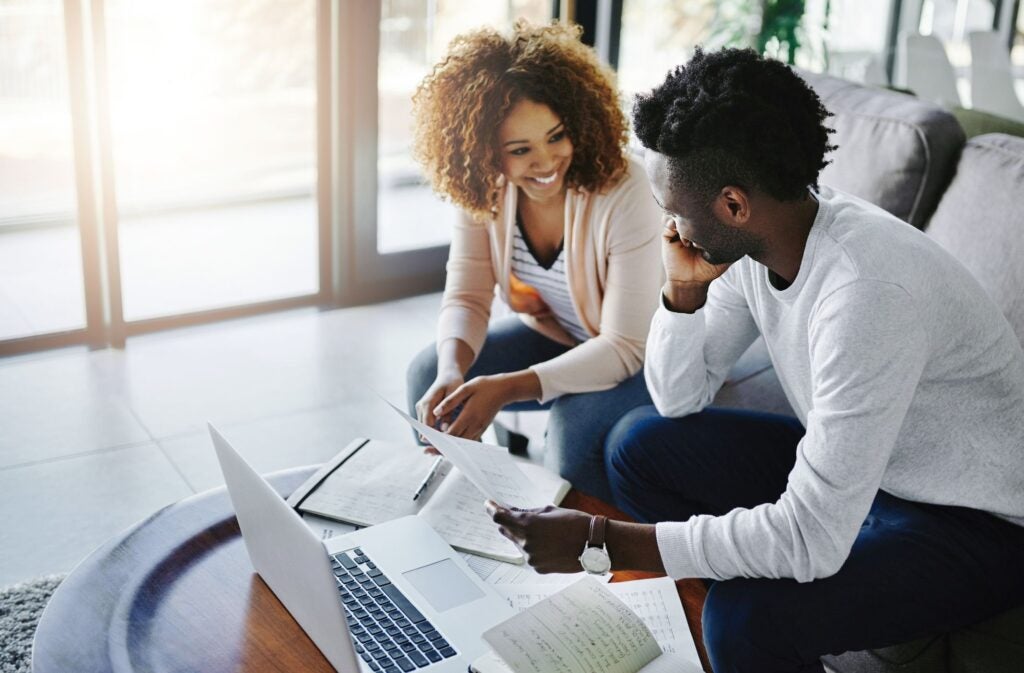 Maintaining a budget can be one of the most effective ways to manage your money and work toward your financial goals. But it's not easy to keep a budget, especially if it doesn't come naturally to you or if your lifestyle changes over time.
If you're struggling to find a budget that works for you, here's what you can do about it.
Common Reasons a Budget May Not Be Working and Their Solutions
If you're having trouble sticking to your monthly budget, you may be able to better identify solutions if you understand why you're having a hard time. Here are some common reasons people have trouble sticking to their budgets and what you can do to address them:
Your Budget Is Unrealistic
One of the purposes of budgeting is to help you make sure you're allocating your income in a way that helps you reach your financial goals. But if you're cutting too much to pay off debt or save, you may find that it's challenging to stick to your budget.
It's similar to dieting: while it's important not to overindulge, you may have trouble maintaining good habits long-term if you never allow yourself a treat or a cheat day.
If you think your budget may be unreasonable, take a step back and evaluate how you're doing. While some financial experts recommend cutting back spending as much as possible in every area, if you're concerned that you may be overwhelmed by that strategy, consider budgeting a small amount of "fun money" for special occasions.
Even if it's just a little discretionary spending every month, it can go a long way in helping you stay motivated to continue saving while still enjoying your hard-earned money.
Your Situation Has Changed
If you're still on the same budget as you were years ago, it may be challenging to stay on track because your budget no longer reflects your current income, lifestyle or financial goals.
As such, it's a good idea to reevaluate your budgeting once or twice a year to make sure everything is still in alignment. If you find that certain aspects of your spending or saving no longer fit with how you want to manage your money, make the necessary changes.
Reevaluating your budget is even more important if your income has decreased over time. While you may be used to the lifestyle you had before, it may no longer be compatible with your current salary. If that's the case, cutting back on your spending can help you avoid debt and stay financially healthy.
It's Too Time-Consuming
Budgeting can take up a lot of time, especially if you have many expenses to keep track of every month. While it can be easy to stay motivated in the short term, maintaining your budget may become more difficult over time.
The good news is that there are tools available to help cut down how much time and effort budgeting requires.
For example, SouthEast Bank offers a user-friendly mobile banking app with spending and budgeting functions built right in. You can track and categorize each of your purchases to get an exact idea of where your money is going. You can also set up goals to help monitor your progress with your budget.
You'll still need to spend time on your budget, but using digital banking and budgeting tools can save you several hours' worth of work every month.
Budgeting Isn't Your Thing
For some people, budgeting comes naturally, and for others, it doesn't. If you dread budgeting because you don't enjoy dealing with numbers, calculations and the organization, there's nothing wrong with that.
If you have a partner, you may consider asking them to help you organize your finances, so you don't have to carry the whole burden. You can also use some of the tools previously mentioned to make the process less complicated and stressful.
Finally, you may consider using a more straightforward budgeting method. If you're currently using a labor-intensive approach like zero-sum budgeting, changing to a different budgeting method may help you stay motivated and focus on your goals.
If this sounds like you, consider a strategy like the two-account budgeting method. With this approach, you split your paychecks into two bank accounts. The first is for necessary expenses, savings and debt payoff, and the second is for discretionary spending. You can spend your discretionary money however you want, and you don't have to monitor the details of every transaction as long as you stay within the guidelines you've set for yourself.
Alternatively, the 50/30/20 budget method has you group your spending into three categories, each with a percentage assigned to it: necessities (50%), discretionary spending (30%) and financial goals (20%). You can even adjust those percentages to better fit your needs and goals.
The Bottom Line
Sticking to a budget can be difficult, and if you feel like your budget isn't working, take a step back and try to understand why. If you can ascertain the reason, it can be easier to determine the best solution.
The important thing is that you take action. If you get complacent and neglect your budget, you could be in danger of overspending and falling into credit card debt, which can make your budgeting challenges even more difficult.
While budgeting can take time and effort, finding the right approach and balance for you can be well worth it and can help you stay financially healthy for years to come.

---
Note: Links to other websites or references to services or applications are provided as a convenience only. A link does not imply SouthEast Bank's sponsorship or approval of any other site, service or application. SouthEast Bank does not control the content of these sites, services or applications.
Information contained in this blog is for educational and informational purposes only. Nothing contained in this blog should be construed as legal or tax advice. An attorney or tax advisor should be consulted for advice on specific issues.