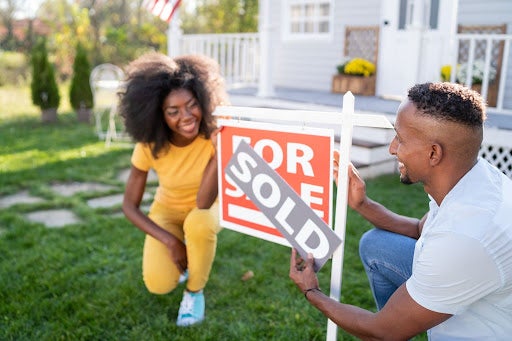 Whether you've lived in Tennessee for years or are planning to relocate, you know how desirable the state is right now. Since 2010, Tennessee's population has grown by 7.5% and shows no signs of slowing down.
The downside of this population growth? The housing market in Tennessee has become increasingly competitive. Throughout the state, the median sales price has grown by over 14% since last year, reaching $315,000.
If you're thinking about buying a home in East Tennessee, here's what you need to know about the current housing market.
Why Is Tennessee So Popular With Homebuyers?
The housing market in Tennessee is red hot. Nearly half of homes within the state are sold for more than their asking prices, and most homes will receive multiple offers from buyers. So what's driving this demand?
There are a few reasons why Tennessee is so desirable right now:
Median home prices: Right now, the median sales price of homes in Tennessee is significantly lower than the national median. The median price of homes sold in Tennessee is just $315,000 — 18% less than the national median of $386,888.
Increase in jobs: There has been a major increase in the number of companies operating in the state and the types of jobs available. Since June 2020, total non-farm employment went up by 154,000.
Decreasing unemployment: With more jobs available, there is a lower unemployment rate. In June 2021, Tennessee's seasonally adjusted unemployment rate was 4.9%. That's better than the national seasonally adjusted unemployment rate of 5.9%.
Tourist attractions: You can't mention Tennessee without mentioning Dollywood, the theme park owned by singer and actress Dolly Parton and Herschend Family Entertainment. Every year, Dollywood welcomes more than 2 million visitors.
Parks: Tennessee is also home to spectacular parks, including the Great Smoky Mountains National Park and the Cumberland Gap National Historical Park.
Interest rates: While mortgage rates are beginning to climb in 2022, Tennessee's average rates are still very reasonable. As of January 7, 2022, the average 30-year fixed mortgage interest rate in Tennessee is 3.26%, just above the national average of 3.21%.
With lower home prices, multiple attractions, and new employment opportunities, many people are drawn to the state. Particularly in east Tennessee, where there is a renewed focus on leisure, hospitality, and manufacturing positions, there is more demand for houses than ever.
Hottest Housing Markets in East Tennessee
Overall, the housing market in Tennessee is booming. Homes are on the market for days, not months, and typically sell for their full asking price or higher.
To help you in your home search, we used data from Redfin, a real estate brokerage company, to identify five of the hottest housing markets in east Tennessee based on increases in median sales prices. Here's what we found:
1. Cookeville: 37.9% Increase
In East Tennessee, Cookeville has had the largest increase in median sales prices. The median sales price in the city is $290,000, a 37.9% increase from last year. Properties typically sell for slightly more than the asking price, while in-demand properties sell for 3% over their asking price.
2. Maryville: 22.4% Increase
Maryville's median home price is $295,000, a 22.4% increase from last year. Homes are usually on the market for 37 days, and the average property sells for 1% above its asking price. More than half of the homes sold during the past year sold above their list price.
3. Knoxville: 22% Increase
Properties in Knoxville are usually on the market for 38 days, and the median sales price is $310,000 — the highest on our list. Homes usually sell for 2% above their listing prices, while highly sought-after properties sell for 7% above their asking prices.
4. Chattanooga: 19.5% Increase
In Chattanooga, the median sales price for homes is $270,000, 19.5% more than last year. Houses are usually on the market for 40 days and sell for 1.1% over the asking price. To stand out from other buyers, you may need a larger down payment. While you can qualify for a mortgage with as little as 3% down, the average down payment for properties sold in Chattanooga was 11.7%.
5. Cleveland: 10.7% Increase
While the median sales price of homes in Cleveland is the lowest of the five at only $252,000, homes sell quickly. They're usually on the market for just 35 days, the shortest term of all the cities we evaluated. However, there may be more wiggle room for negotiation; approximately 1% of homes sold for less than their list price.
Buying a Home
If you're shopping for a home in Tennessee, don't let a hot housing market intimidate you. Choosing the right lender can simplify the home loan financing process and give you the best chance of scoring your perfect home.
---
Note: Links to other websites or references to services or applications are provided as a convenience only. A link does not imply SouthEast Bank's sponsorship or approval of any other site, service or application. SouthEast Bank does not control the content of these sites, services or applications.
Information contained in this blog is for educational and informational purposes only. Nothing contained in this blog should be construed as legal or tax advice. An attorney or tax advisor should be consulted for advice on specific issues.