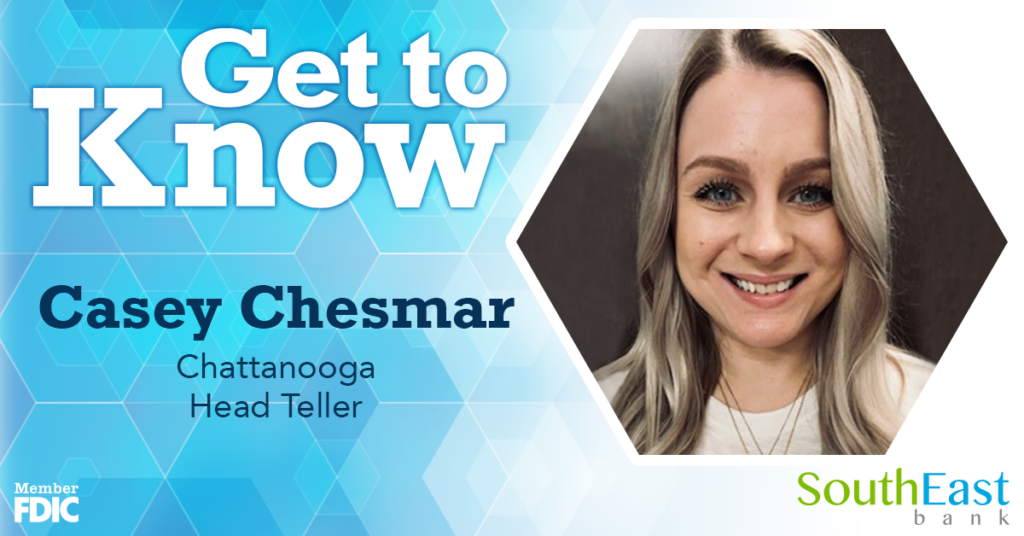 Organizing your finances isn't always easy – from saving for an emergency fund to applying for a mortgage, you may feel like you're juggling more than you can handle.
That's why so many of our customers appreciate the team at SouthEast Bank Chattanooga. Not only do they offer years of banking expertise – they also go above and beyond to listen to and understand customers' needs.
Casey Chesmar, our head teller in Chattanooga, has worked in banking for just under four years. During that time, she says she's developed lasting connections with customers that enable her to celebrate their financial successes.
"I enjoy working in banking because I get to build connections with customers," she said. "Some of the connections I have made have lasted the span of my banking career."
Originally from Akron, Ohio, Casey says she's spent six years living in Chattanooga and enjoys the city's atmosphere.
"I love being close to the city," she said. "I enjoy going to events, restaurants and sightseeing around downtown."
We chatted with Casey about a few of her other interests and pastimes, and here's what she shared with us:
What was your very first job, and what did you learn from it?
My very first job was working as a hostess. I learned what it was like to interact and work with a variety of people and the importance of understanding their individual needs.
Anything you'd like to share about your family or pets?
I have a wonderful family – my mom Linda, dad Larry, and sister Lindsey. I also have two dogs, Moose and Molly.
What are your favorite hobbies or activities outside of work?
I enjoy spending time with my family and traveling with my boyfriend Dan to quaint cities and towns.
What is your favorite movie, book or TV series?
I love Hallmark movies, true crime podcasts, historical romance novels and classic rock music.
What is one fun fact that someone might not know about you?
I have a passion for animals and enjoy visiting zoos and aquariums every chance I get! I volunteered at the Tennessee Aquarium for two years and had the absolute best experience.

Our employees are our greatest asset, and we love getting to know them better! Thanks for following along with our Get to Know series. Be sure to check out our Facebook page and stay tuned for even more fun content from SouthEast Bank.
---
Note: Links to other websites or references to services or applications are provided as a convenience only. A link does not imply SouthEast Bank's sponsorship or approval of any other site, service or application. SouthEast Bank does not control the content of these sites, services or applications.
Information contained in this blog is for educational and informational purposes only. Nothing contained in this blog should be construed as legal or tax advice. An attorney or tax advisor should be consulted for advice on specific issues.