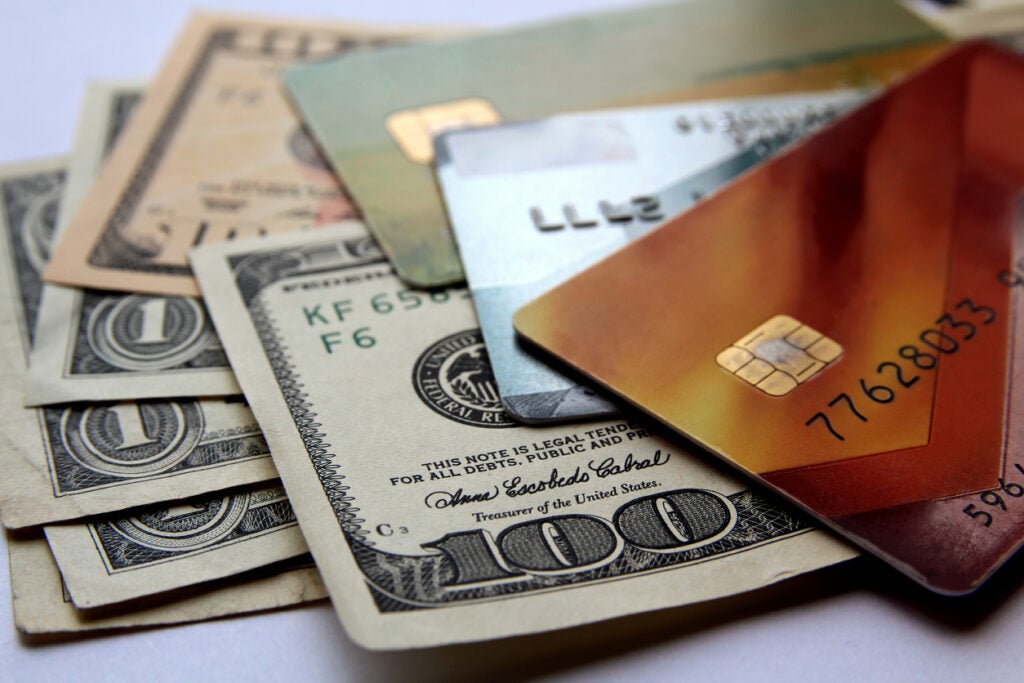 You've heard the phrase time and time again, "cash is king." But with the onslaught of cryptocurrencies, digital banking, peer-to-peer payments and high-reward credit and debit cards, is cash's time running out? Let's take a look.
Is it still widely used?
In a word, yes. Cash is still the most common form of payment for the time being. Cash makes up 30 percent of all transactions in the United States and is used over half of the time for transactions under $10. As transaction prices increase, unsurprisingly, the popularity of cash begins to dwindle. The price points where we see debit and credit cards taking over is between $46 and $67 transactions.
While cash is still the go-to for shoppers, we see a change in the mix of currency. Recently, $100 bills have surpassed $1 bills in popularity, with $20 bills rounding out the top three. Two dollar bills, for what it's worth, make up about 1.3% of circulation volume, its highest percentage since 1998.
Do you spend less using cash?
Maybe it's the tangibility of cash — the rich blend of cotton (75 percent) and linen (24 percent) that make us want to hold onto it, or possibly even the intricate design and color-shifting ink. Regardless, Americans are mesmerized.
Studies have shown that credit and debit card users tend to spend more than they would if they used cash. Paying more with debit and credit boils down to simplicity and a bit of psychology.
In a recent study by the American Psychological Association, participants were given $1 cash or $1 gift certificate. As you might expect, gift certificate shoppers were quicker to pay up than the cash shoppers. That is until they put the certificate in their wallet. When shoppers held onto the certificate for an hour, they treated it like cash — essentially assigning a value to it.
More studies have shown that with "pain" associated with handing over cash at the checkout line diminishes when using credit or debit. Swiping is much easier, and the mere image of a credit card logo could increase the willingness to overspend.
Ok, but is cash safer to use than a card?
The answer is that is a definite maybe. On the one hand, when someone steals a handful of cash, that's all they take from you. That stack of cash has no ties to your identity or other personal information. After all, that's someone else's picture on the $100 bill — Ben Franklin's. To some, that might make cash immediately sound like the better option. However, there's another side to consider.
When using your debit or credit card, you have extra protection against theft. If your card is stolen, you can file a claim to have the card canceled and dispute the charges, which could result in getting money back. For credit and debit card fraud, federal law limits consumers' liability. The federal Fair Credit Billing Act states that customers are only on the hook for up to $50 if the fraud is reported promptly. Although "zero liability" for fraud is offered by most major credit card networks, which means the consumer isn't liable for any fraudulent charges.
At SouthEast Bank, all of our debit cards receive 24/7 Verifi fraud protection. This service monitors your purchases around the clock, declining suspicious transactions, and calling you to confirm authorization if a charge exhibits fraudulent characteristics.
So which is better – cash or card?
Both. While there are plenty of benefits to using cash, it's important to note that it's not an "either/or" scenario. You can have a perfectly sound budget by balancing your method of payment. If you're traveling, credit cards may provide the most benefit because you could score better exchange rates, and you're protected if the card is lost or stolen. Cash can be better for limiting impulse buying and feeling more connected to your purchases. Debit, however, proves its power when you want to automate bills and don't feel comfortable carrying around large amounts of cash.
If you prefer a mix, and are open to using a debit card, SouthEast Bank offers Bonus Rate Checking1, which could be a great option for you. This high interest-bearing account offers up to 2.01% APY* on balances up to $20,000 but still allows for access to your cash via 55,000 ATMs and great online features like bill pay and peer-to-peer transfers. How many banks pay up to 2.01% APY on a checking account?
There's little doubt that there's a shift in the way Americans pay for purchases. While cash may be king for now, debit and credit cards are heir to the throne.
---
SouthEastBank Member FDIC.
1To earn the bonus rate, each statement cycle the account must be enrolled in eStatements and post and clear at least 15 qualifying debit card transactions of $1 or more. If all qualifications are met during the statement cycle, the account will earn a 2.01% APY on balances up to $20,000 and .20% APY on balances over $20,000. $3.00 Paper Statement fee applies if account is not enrolled in e-statements each statement cycle. If bonus qualifications are not met during the statement cycle, the account will earn .05% APY. Qualifying transactions include point of sale or online purchases using the SouthEast Bank debit card. ATM and cash-only transactions do not qualify towards minimum debit card transaction amount. Fees may reduce earnings. Some fees and restrictions apply. Visit southeastbank.com or ask an associate for complete details. Rates are accurate as of 4.1.21 Rates are variable and subject to change after account opening.
*APY= annual percentage yield. Rates subject to change. APYs are accurate as of 04/09/2021. Fees may reduce earnings. Some Fees and restrictions apply.
Note: Links to other websites are provided as a convenience only. A link does not imply SouthEast Bank's sponsorship or approval of any other site. SouthEast Bank does not control the content of these sites.