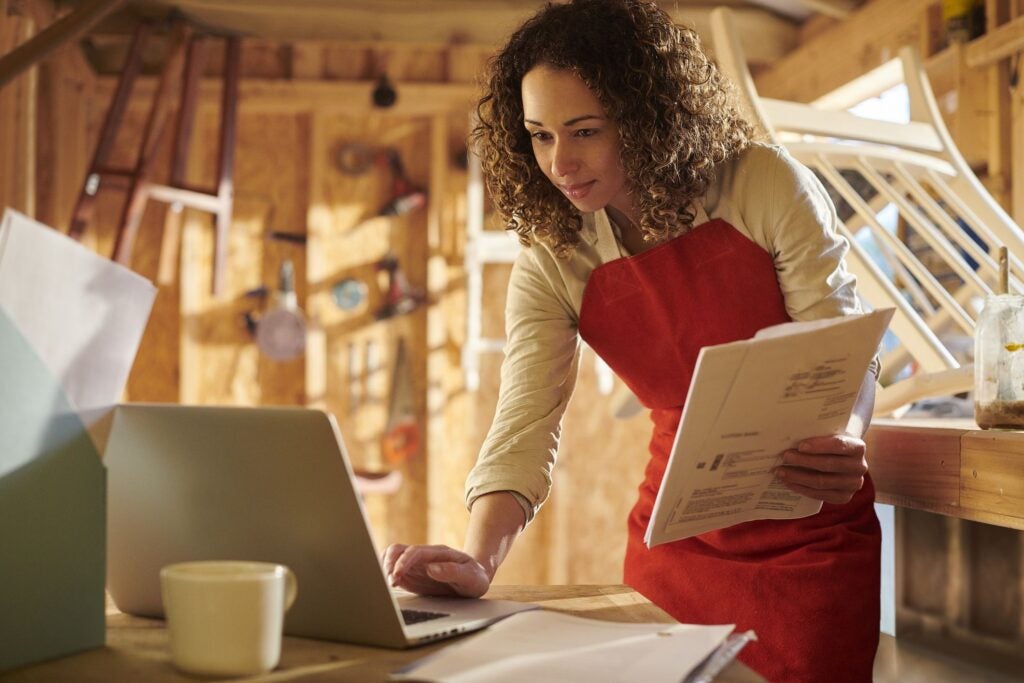 From serving customers through curbside pickup to offering virtual services, entrepreneurs have adapted their offerings in recent months to fit the needs of the changing world.
One change that has presented a challenge to some small business owners is the increasing demand for contactless payment options. In 2020, electronic payments increased by just over 8%. While the COVID-19 pandemic may have sped these numbers' growth, the trend toward digital payments is not entirely new.
Now more than ever, it's essential for entrepreneurs to invest in programs that can manage electronic transactions. Fortunately, there's good news for small business owners. As payments continue to trend digital, eCommerce solutions designed for small- to mid-sized businesses are becoming more widely available.
SouthEast Bank now proudly supports Autobooks, a multifaceted business banking tool designed to help streamline small business payment solutions, invoicing options and more. Here are a few of the ways Autobooks can assist your small business banking goals:
A Simple Solution for Small Business Banking
For small business owners, time is a valuable resource. Rather than spending hours, or even days, researching the best digital payment options, you can now rely on Autobooks to support your electronic invoicing and payment efforts.
With Autobooks' easy to use platform, you can now enjoy services like:
Send invoices: Business owners can customize invoices to fit their needs and showcase their business with a logo or colors.
Accept and manage online payments: Autobooks simplifies the process of accepting and tracking electronic payments from customers.
Pay bills: Along with scheduling vendor payments, Autobooks also helps to categorize and reconcile invoices within the flow of standard bill pay.
Automate bookkeeping: Autobooks tracks and categorizes funds received and paid out, streamlining the bookkeeping process.
Manage cash flow: Autobooks keeps you up to date on incoming, coming due, and past-due customer payments
As a Microsoft financial services partner, Autobook uses a cloud-based platform to support business banking. For entrepreneurs, that means dependable service you can access anytime, from almost anywhere.
Manage Business Transactions, All in One Place
Keeping up with several banking tools and platforms can feel overwhelming. Autobooks integrates with several different systems to alleviate this pressure, including the SouthEast Bank mobile and online banking platforms.
Not only can you manage everyday banking transactions from your digital banking platforms, but with Autobooks, you can also keep up with your business debits and credits.
The program also supports an online payment form, which you can share through your business's website, in social media posts and more. If your customers are already familiar with your business, this can be a handy option. Instead of sending customers to a third-party website like PayPal to make payments, you can add the form directly to your existing site and monitor new charges as they come in
If you regularly invoice customers, you can also keep track of those communications using Autobooks. From within the platform, you can create and email digital invoices to customers, then track their payment statuses. Plus, you can even set up payment reminders to send at certain intervals, alleviating the stress of manually keeping up with customer payments.
It's Easy to Get Started With Autobooks
SouthEast Bank is committed to meeting the needs of small businesses in Middle and East Tennessee. If you aren't sure whether Autobooks is the right tool for your small business, booking a demo to explore the features it offers. Simply visit southeastbank.com/autobooks and provide your contact information to schedule a 10-minute introduction.
As small businesses adapt to changing customer needs, we aim to provide the right-size solutions for local entrepreneurs. Visit our website or speak with your local banker about the many ways Autobooks can help support your banking goals.
---
Note: Links to other websites or references to services or applications are provided as a convenience only. A link does not imply SouthEast Bank's sponsorship or approval of any other site, service or application. SouthEast Bank does not control the content of these sites, services or applications.
Information contained in this blog is for educational and informational purposes only. Nothing contained in this blog should be construed as legal or tax advice. An attorney or tax advisor should be consulted for advice on specific issues.