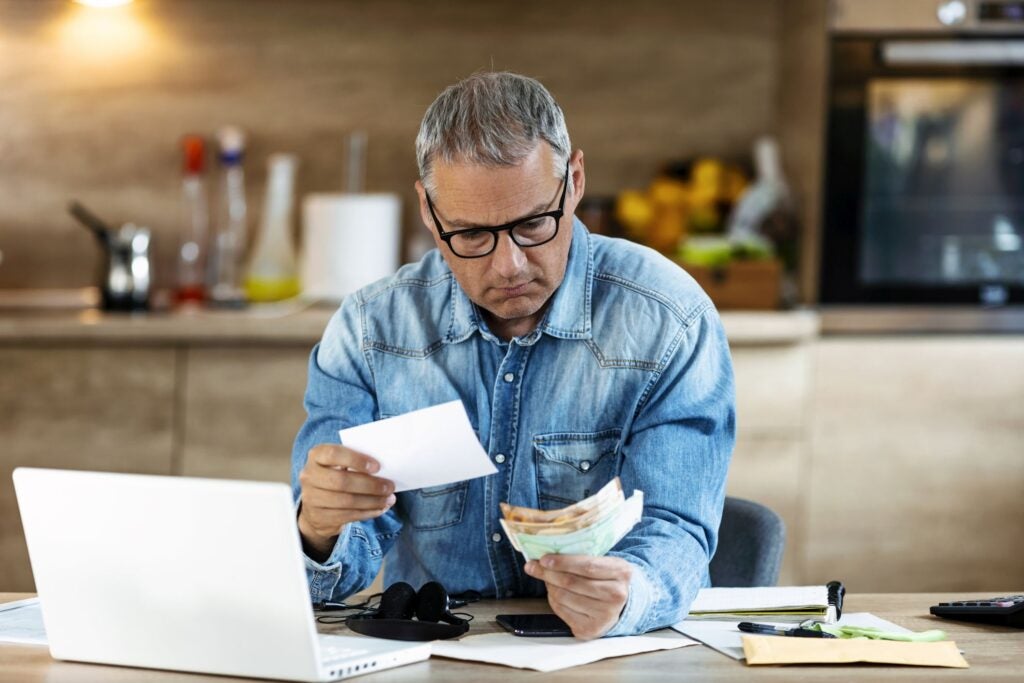 Managing your money can be challenging, but the reward is almost always worth it. As you work toward your savings goals to establish the lifestyle you want, it's important to watch out for financial pitfalls that can keep you from accomplishing them.
Here are some of the top financial pitfalls to watch out for and how to avoid them.
1. Making Just the Minimum Payments on Your Credit Card
Credit card companies make it easy to keep up with your monthly payments every month. In many cases, the minimum amount due is as little as 1% of your total balance.
But paying just the minimum amount every month can keep you in a vicious cycle of debt for years to come, and it can cost you thousands of dollars in interest.
As such, it's best to pay your balance in full every month by the due date to avoid interest charges. And if you're having a hard time sticking to that goal, it may be best to live without a credit card.
2. Not Tracking Your Spending
A budget is one of the simplest things you can do in terms of money management, and it's also one of the most important elements of a financial plan.
Although it's a good idea to set goals for your monthly spending, it's absolutely crucial to track your expenses to understand where your money is going. That way, you can get an idea of whether you're overspending in certain areas and determine where to cut back and reallocate that cash flow toward important goals.
Of course, tracking spending across multiple credit and debit cards can be difficult. Consider using an app like CardValet to view all of your card transactions in one place. The app also offers spending insights and can make it possible to set purchase limits to avoid overspending.
3. Skipping Your Employer's 401(k) Match
If your employer offers a 401(k) with a matching contribution, make it a priority to maximize that match, even if it's at the expense of some other financial goals.
For example, if your employer matches your contributions dollar for dollar up to a set amount, that's an immediate 100% return on your investment. You'll have a hard time finding any other financial move that will give you that kind of return that quickly.
In some cases, though, your employer may not match 100% of your contributions. In others, employer contributions may be vested, which means you don't actually get access to those funds unless you stay with the company for a set period.
If there are caveats to your employer's 401(k) match, consider your situation and other goals to make the best decision for you.
4. Not Automating Your Savings
Whether it's for retirement, a vacation, education or emergencies, it's important to consider your monthly savings like a bill. Set up automatic transfers from your checking account to your savings account so you don't end up spending that money before you have the chance to save it.
Also, if possible, consider using multiple savings accounts, one for each savings goal, so you can keep better track of your progress with each.
Finally, shop around to find a savings account with a high yield, so you can maximize the money that you're setting aside. SouthEast Bank's Bonus Rate Savings account,1 for example, offers up to a 2.01% APY on balances of up to $10,000 if you meet a few simple requirements.
5. Forgetting to Pay Your Bills
Technically, an unpaid bill won't damage your credit score unless it's been late for 30 days or more. So if you miss a payment and get caught up quickly, your credit score won't suffer.
That said, late payments can result in interest and fees, so it's best to set up your bills on automatic payments to avoid paying after the deadline.
6. Not Checking Your Credit Regularly
Your credit score is a key indicator of your overall credit health, and it's crucial to keep track of it. Having a low credit score not only impacts your ability to get approved for financing when you need it, but it can also affect your ability to lease an apartment or home, get a job, avoid a security deposit on utility accounts and score cheap insurance rates.
You can check your FICO credit score for free and also get access to your Experian credit report through Experian's free credit monitoring service.
Check your score regularly to get an idea of where you stand and review your credit report for areas that you need to address.
7. Having Inadequate Insurance Coverage
It's rarely fun to talk about insurance, but having the right types and amounts of coverage can help keep your financial plan from being derailed. The following types of insurance coverage are important for most people:
Health insurance
Dental insurance
Life insurance
Disability insurance
Auto insurance
Homeowner's or renter's insurance
The types of policies and the amount of coverage you might need depend on your situation and needs. As a result, it's a good idea to work with a licensed insurance agent to get an idea of what's the right fit for you.
It's easy to avoid buying insurance because having multiple policies can be expensive, and there's no guarantee you'll ever need them. But in the event that you do need coverage, insurance can save you from financial hardship.
The Bottom Line
Building financial security takes time and effort, but the process can be a lot more difficult if you're sabotaging yourself with these and other financial pitfalls.
Take the time to understand your situation, financial goals and spending habits, and think about steps you can take to limit your exposure to financial pitfalls and maximize your hard-earned cash to work for you rather than against you.
---
1To earn the bonus rate, the account holder must have a SouthEast Bank checking account with the Round Up feature, enroll the Bonus Rate Savings account in eStatements and post and settle 15 round up debit card transactions during the statement cycle from any personal SouthEast Bank checking account. This is a variable rate tiered account. If all qualifications are met during the statement cycle, 2.01% APY will be applied on the balances up to $10,000 and .20% APY on balances over $10,000 will be credited. If bonus qualifications are not met during the statement cycle, the account will earn 0.05% APY. Unlimited withdrawals at teller window or ATM and 6 pre-authorized withdrawals per month at no charge, including checks, ACH debits and online banking transfers; $3 fee for each withdrawal thereafter. Fees may reduce earnings. Limit one Bonus Rate Savings account per primary owner tax ID. Rates are accurate as of 9-1-2021 . Rates are variable and subject to change after account opening.
Note: Links to other websites or references to services or applications are provided as a convenience only. A link does not imply SouthEast Bank's sponsorship or approval of any other site, service or application. SouthEast Bank does not control the content of these sites, services or applications.
Information contained in this blog is for educational and informational purposes only. Nothing contained in this blog should be construed as legal or tax advice. An attorney or tax advisor should be consulted for advice on specific issues.