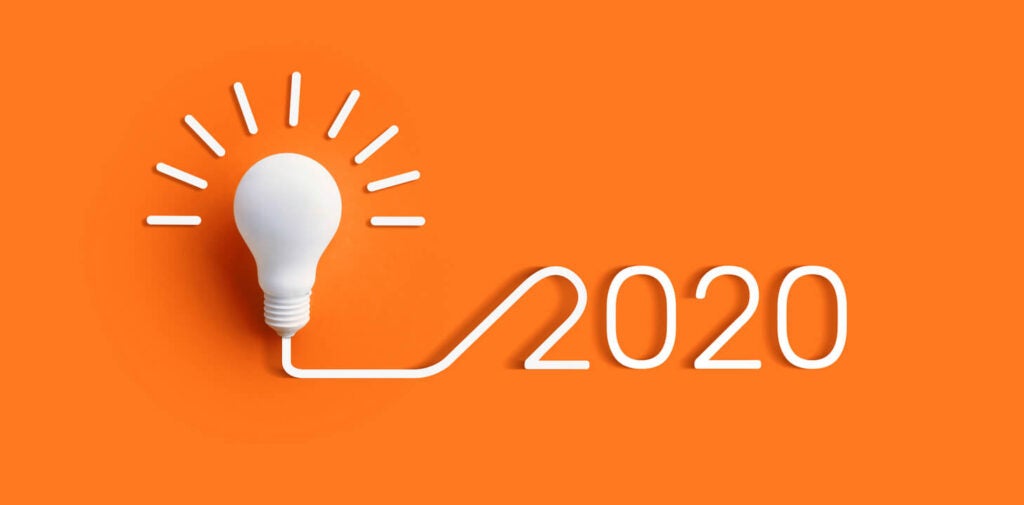 It's right up there with losing weight and learning a new skill. When the ball dropped closing out this decade, millions of Americans made financial resolutions for 2020. In fact, "saving more and spending less" slotted in at number four of the top-10 resolutions in a recent survey. While we promise to do a better job with our finances and, in some cases, even spend money to ensure we keep our resolutions, after a few weeks' time, we end up with the same old spending habits from the previous year. But it doesn't have to be that way. This year can be the year you whip your wallet into shape and keep your financial resolutions in 2020. Following the steps below will help.
Put pen to paper.
If you really want to gain traction with your resolution to spend less, be truthful about your behavior by writing down the areas where you overspend. For some, clothing is the Achilles' heel. For others, it's overspending on food and experiences. Merely writing down your budget for those areas may be enough to keep you accountable. Richard Branson, founder of Virgin Group, credits this small trick to the success of Virgin Trains and Virgin America.
"No matter how big, small, simple or complex your idea is, get it in writing. It doesn't matter if you use a pen and notebook or your iPhone – if you have a record of it, you're more likely to make it happen," he says.
Get a jumpstart.
Make it a priority to set aside some savings, quickly. Before going full steam ahead paying down your credit card debt, put between $500-$1,000 in savings. With a small stockpile, you won't have to use a credit card when your car battery goes out or your washing machine needs repair. The trick for setting aside some extra money is to do it as soon as possible and enjoy the mental "win" of reaching this goal. Some ideas for getting extra cash for savings include:
Start the new year by having a garage sale (bonus for your other resolution to declutter)

Turn your hobby into a side hustle

Get a few hours of overtime at work

Save every $5 bill you receive

Rent out living space to travelers
Don't pay for what you don't need.
Subscription services really took off in the last few years. From meal kits and movie streaming to shave clubs and internet radio, there's little doubt Americans love the flexibility that comes with subscriptions. But studies show they could be draining your bank account.
In a recent survey, researchers asked 2,500 Americans to spend 10 seconds thinking about how much they spend on "recurring monthly expenses associated with digital services, devices and subscription boxes." Their guess: $79.74, on average. But the reality is that on average, they were spending $237.33. That's a 197% increase over what they thought they were spending.
Set aside 30 minutes and jot down all of the monthly recurring expenses you have and you'll likely notice you're wasting money. Do you need three movie streaming services? What about the top-tier mega-fast internet speed? Could your monthly phone data be dropped to the three-gig plan from the unlimited plan? If you can't remember all of the subscriptions you're enrolled in, apps like SubscriptMe®, Trim®, and TrueBill® can help track them for you.
Don't overpay for what you do need.
There's no getting around some expenses like insurance, groceries, and clothing. But just because you need them doesn't mean you need to overspend on them. In fact, overspending is likely a major reason you're unable to keep your financial resolutions. When it comes to everyday items, it pays to compare prices. For example, bundling auto and home insurance could save anywhere from 5-25% for each policy, according to NerdWallet. And while you're at it, shopping around for better rates on insurance could score even more savings. Case-in-point, SouthEast Insurance¹ customers have reported saving an impressive $652 when they make the switch².
When it comes to food, buying generic doesn't mean trading off on quality. This Dave Ramsey blog features three dinners and lists, ingredient-by-ingredient, the cost of buying name brand vs. generic. In his scenario, the customer would save over $1,000 a year just by switching to generic. Now that's saving some dough.
Lastly, take a look at your checking account and see if you're paying too much. Some of the most common avoidable service charges include:
ATM fees

Maintenance fees

Overdraft fees

Inactivity fees, and

Account closure fees
Ask your bank what options they have for getting these fees waived. If you're a college student or a senior citizen, ask about special checking and savings programs. Many of them, like SouthEast Bank's new Thrive senior checking account, offer premium benefits at no cost. Perks such as bounce protection, an additional interest rate bump on CDs and free checks may be included³!
Ready to finally take control of your money in 2020? Following these steps could be the nudge you need to finally keep those financial resolutions in 2020.
---
Note: Links to other websites are provided as a convenience only. A link does not imply SouthEast Bank's sponsorship or approval of any other site. SouthEast Bank does not control the content of these sites.
¹SouthEast Insurance Services
Not FDIC Insured

May lose value

Not bank guaranteed
Insurance products are not insured by FDIC or any Federal Government Agency; are not a deposit of, or guaranteed by the Bank or any Bank Affiliate; and may lose value. Any insurance required as a condition of the extension of credit by SouthEast Bank need not be purchased from our Agency but may, without affecting the approval of the application for an extension of credit, be purchased from an agent or insurance company of the customer's choice.
²Figure of $652 is based on a national average of customer-reported savings from 09-01-2018 to 09-01-2019, compared to their premiums before switching. Average savings includes all single policy and multiple policy auto and home insurance premiums. Your savings may vary. Not all products, coverages, and discounts are available in every state. Restrictions, exclusions, limits, and conditions apply.
³The Thrive checking account is available to customers who are 60 years old and older. There is no monthly service charge with this account. The free checks are safety paper checks. The free certified checks are limited to 9 per month. An insufficient funds fee will be charged for items overdrawing the account, but bounce protection will pay any overdrafts up to $300. Thrive checking account holder can receive 10 basis point increase on newly opened CD Special rates (see associate for CD Special offers) if the Thrive checking account receives a monthly direct deposit as well as one monthly debit (check or debit card) from the account. SouthEast Bank Member FDIC.