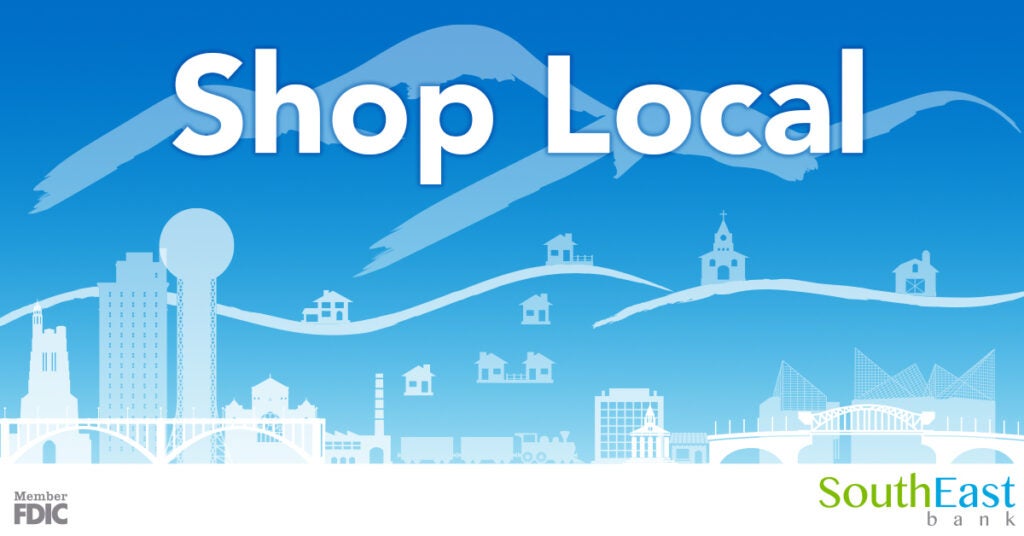 Locally owned businesses are at the heart of everything our communities do, creating jobs and helping our economies to grow and thrive. Small Business Saturday® is dedicated to supporting these important organizations.
To celebrate this special day, we visited 14 local businesses in the Middle and East Tennessee communities. We look forward to sharing their stories with you, knowing that your support makes a big impact on small businesses.
Clean Sweep: Goody's Power Sweeping
780 Pennine Rd, Spring City, TN 37381
When you think of parking lots, what comes to mind – vast open spaces, meticulously painted lines and seas of vehicles of every type? Maybe you haven't thought much about parking lots at all, and that's ok too. In fact, the Goodman family may prefer it that way. They swoop in with their heavy-duty trucks once the rest of us have all turned in for the night and ensure the dirt and debris from the day is removed.
Family-owned Goody's Power Sweeping is a staple in Spring City, but they service multiple communities. Their business is built on the values of reliability, honesty and customer service, and several of their customers have relied on them for more than a decade. By now, they have their nightly ritual down to a science.
"We've got a schedule and we all divide it up. We've all got nights that we work," adds co-owner Susan Goodman.
Her father started the business with just one truck, but it's now up to four, and as they kept growing, more family members became involved, each one actively working with their customers to ensure continued satisfaction. "We always know that the work is done right," says Goodman.
And when the work is done right, the parking lot goes unnoticed – just as the Goodman family would want it.
Brewed to Perfection: Monkey Town Brewing Company
For Kirby Garrison, craft beer is more than a business, it's an art form – one that began while brewing beer with friends at his parents' home. The home-brew eventually led to a thriving small-batch brewery and restaurant that has earned praise from critics and fellow aficionados alike. Kirby and his father, Alan, opened Monkey Town Brewing Company, located at 287 1st Ave, in 2015, and it has since become a fixture in downtown Dayton.
The name "Garrison" has deep roots in the community. Alan Garrison was born and raised in Dayton, and his uncles were entrepreneurs in their own right. Everything from a funeral home, Pontiac dealership and gas station was once part of the family business. That family legacy was rekindled when the Garrisons decided to move from their home in New York State back to Dayton, where little was known about microbrewing in Tennessee at the time.
Using their 7 BBL (barrel) nano brew system, Kirby concocts beers in-house, and there's a brew for every palate. Local draught favorites include the slightly sweet and chocolaty "Brown 'n Out" English Brown Ale to the unbelievably tasty "Aunt Karen's Fruit Salad" Dessert Smoothie Sour Ale. The ability to introduce craft brews to a new audience makes Dayton an ideal place to own a business.
"Instead of just being a small cog in the machine that is craft beer, you're actually building your own community … It's been more difficult, but the payoff is so much more… the people appreciate it so much more," says Kirby.
And if appreciation comes in the form of growth, it's been in leaps and bounds. The food menu at Monkey Town Brewery rivals their craft beer selection and Alan Garrison's wife now runs a pizza and gelato business next door. They've partnered with other well-known breweries in the area and have plans to expand into Chattanooga and Loudon.
Though they're growing, it's clear the Dayton location is the central hub for Monkey Town Brewing. While some guests are unsure what to make of the shiny steel barrels and tongue-twisting beer names, they're certain the Garrisons have perfected the art.
Building a Legacy: Uncle Gus's Mountain Pit Bar-B-Que
810 Peakland Rd, Decatur, TN 37322
If you're driving through Decatur, Tennessee, you won't want to miss Uncle Gus's Mountain Pit Bar-B-Que. Owners Roxanna and Jeff Fuller built the restaurant board by board, opening to the community in 2010.
The restaurant walls tell their stories, filled with family heirlooms and mementos from their lives. One wall is built from the flooring of their original family home, and if you look above the windows, you'll see Roxanna's childhood teddy bear, Stanley. When asked what keeps customers coming back again and again, Roxanna said "We know what they want when they walk through the door." Kitchen manager Zach chimed in, "We get really close to our customers."
With service like that, it's easy to see why the restaurant's regulars love visiting this charming local restaurant.

Going, Going, Gone: Highway 111 Flea Market
4481 Highway 111 N, Cookeville, TN 38506
For Charlie Toler and his wife, Katelyn, the Highway 111 Flea Market located at 4481 Highway 111 N in Cookeville is a labor of love. Not only is it evident they thoroughly enjoy their work, but they also met there. Katelynn was renting a booth and both were determined to win each other's affection. They fondly look back on those days, and smiling at each other, say "no refunds are accepted."
Walking up and down the 39,000-square-foot warehouse can seem overwhelming. Centered are a restaurant and meeting area, with 189 stalls on both sides filled with everything from antiques and knives to DVDs and hard to find tools. On the opposite of the building is an auction house where goods go to the highest bidder.
In the four years he's owned Highway 111 Flea Market, Toler has become good friends with shop vendors and values the merchandise they bring into his market. As we continue walking the halls, the Tolers gush about how amazing some of the items are and how they're excited to see the regulars expand their businesses.
For the Tolers, the flea market is more than a line of shops, it's a community – one that started when they met each other.
If you've enjoyed Small Business Saturday so far, then be sure to visit our Small Business Saturday page for details on even more fantastic local organizations!