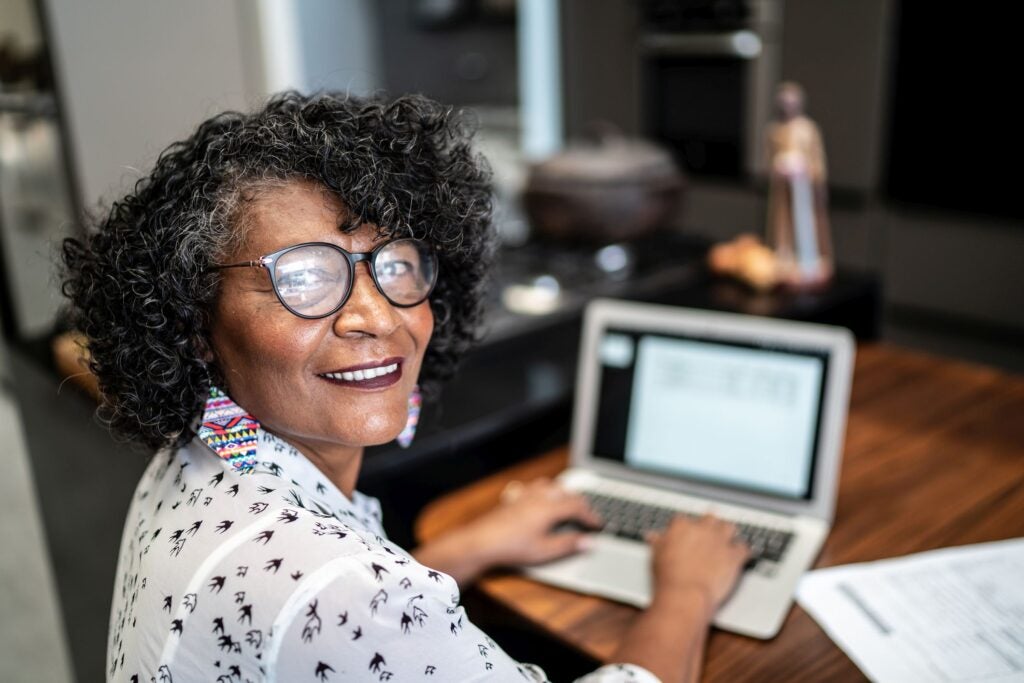 Even before the coronavirus pandemic began, remote work was becoming increasingly common, even for full-time employees.
At the end of 2020, the freelancing platform Upwork released a report estimating that 22% of the workforce in the U.S. will be working from home by 2025 — that's an 87% increase from pre-pandemic levels.
According to Mental Health America, working from home can come with several benefits, including reduced stress, more opportunities for people living in disadvantaged communities, location independence and more time for health and wellness.
But what about finances? Can working remotely help or hurt your budget? Here's what you should know.
The Financial Pros and Cons of Working from Home
On average, workers can save $4,000 per year by working remotely, according to FlexJobs. Those savings are primarily focused on transportation-related costs.
For example, you could save hundreds or even thousands of dollars on fuel, maintenance and repairs because you're not driving as often. What's more, auto insurance companies sometimes offer lower rates to people who drive less, especially during busy commuting hours when the risk of an accident is higher.
If you use public transportation instead of a personal vehicle, though, your costs may not change much because you'll likely still need a monthly pass to get around town for other purposes.
If your job requires that you wear professional clothing while in the office, working from home eliminates that expense and also makes it so your current work clothes last longer. And if you normally eat out for lunch, you can now make your middle-of-the-day meal at home for less.
That said, you should expect an increase in your grocery budget since you're eating meals and snacks throughout the day. Also, if you're busy, you may be tempted to utilize delivery services like DoorDash and Uber Eats, which cost more than dining out because of service fees and tips.
Depending on your employer, you may not be able to bring office furniture, equipment and supplies home with you. While your company may reimburse you for buying some items yourself, it's possible that you may wind up footing the bill, especially if you want specific items that your employer won't cover.
And don't think you can take advantage of the home office tax deduction that's available to independent contractors and other self-employed individuals. According to the IRS, this tax break is not available to full-time employees, even if they only work from home.
How to Make the Most of Working from Home for Your Budget
If you're already working from home or plan to switch to working remotely part or full time, here are some tips on how to maximize your savings:
Negotiate Benefits With Your Employer
It's not just employees that can save by working from home. According to Global Workplace Analytics, employers save an average of $11,000 per year for each employee who works remotely just half the time. Cost savings include overhead, real estate costs, transit subsidies and more.
This means that employers could presumably afford to provide benefits that are more valuable for employees that work from home instead of commuting to the office every day.
For example, you could potentially ask your employer to cover all the costs of setting up your home office instead of just some of them. You could also ask for a benefit that covers the cost of your internet connection or phone service, especially if you use them regularly for work.
Finally, some employers with remote employees may cover the cost of a gym membership, which not only saves money but can also help you improve your physical and mental health.
Limit Food Delivery
While you can likely expect an increase in your grocery budget, the difference may still be less than what you're saving by not eating out every day.
Of course, you may still prefer the convenience of ordering lunch via a food delivery service. But try to limit how much you spend to avoid breaking the bank. Even buying ready-made meals from the grocery store typically costs less than having meals delivered.
Have a Plan for the Money You're Saving
If you're saving money working from home, you may be tempted to spend it right away. But in the long run, you'll benefit from having a clear strategy for maximizing your extra cash flow.
Start with saving and debt payoff goals. You don't necessarily have to put all of your money toward these, but if you have high-interest debt or your emergency fund is low, you'll put yourself in a better financial position by prioritizing those goals.
You can also consider other financial goals, such as building a retirement fund, saving for a home down payment, acquiring adequate insurance coverage and more to determine how best to manage your money.
Finally, think about smaller financial goals that can help improve your lifestyle without putting you in debt. For example, you could set some cash aside every month for a vacation, a new car or holiday spending.
The Bottom Line
Working from home can save you thousands of dollars every year, but there are some aspects of remote work that could also increase your expenses in certain areas. If you're already working from home or plan to soon, consider the different ways you can use the opportunity to improve your financial situation and prepare yourself for the future.
---
Note: Links to other websites or references to services or applications are provided as a convenience only. A link does not imply SouthEast Bank's sponsorship or approval of any other site, service or application. SouthEast Bank does not control the content of these sites, services or applications.
Information contained in this blog is for educational and informational purposes only. Nothing contained in this blog should be construed as legal or tax advice. An attorney or tax advisor should be consulted for advice on specific issues.