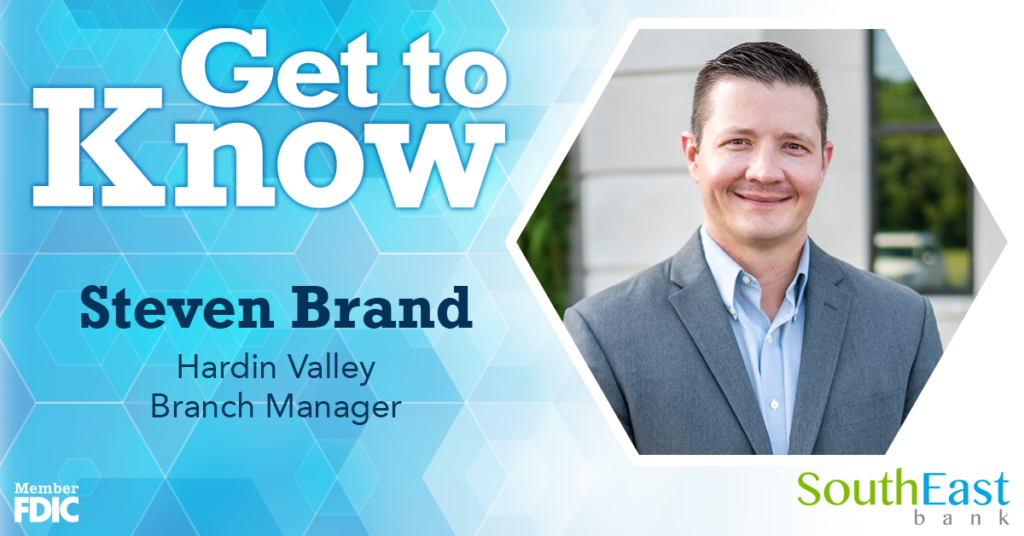 To offer stellar customer service, you need to start with a stellar team. Steven Brand, our Hardin Valley branch manager, fits this description for many reasons. With a hardworking attitude, a great sense of humor and a willingness to help, Steven is a standout team member and leader.
Steven has spent his career in the banking industry, and he uses his knowledge to better serve his customers. He started in the industry as a part-time teller after graduating from the University of Tennessee, and he remains proud to call Knoxville his home.
"I've lived in Knoxville for 26 years and love the mountains, the water and the Vols," Steven said. "I appreciate that Knoxville has a small-town feeling with large city amenities."
We asked Steven a little bit about his family and hobbies, and this is what we learned:
Can you tell us a little bit about your family or pets?
I've been married for 15 years to my wife Samantha, and we have two wonderful children. Carter is six and Abby Grace is three.
What are your favorite hobbies or activities outside of work?
I enjoy working around the house, running and golfing. I'm also pretty good at woodworking! I've made cabinets, entertainment centers, mudrooms and more.
Do you have a favorite sports team?
I follow the Green Bay Packers, the Milwaukee Brewers, and of course, the Vols.
Do you have a favorite TV show, movie, book or genre?
I enjoy comedies like The Office and 30 Rock, as well as shows like House Hunters. I listen to several podcasts, and I'll watch just about any documentary.
What is something you're passionate about?
I love helping people to do more than they think they are capable of accomplishing.
We love learning more about our team members, and we're excited to introduce them to you! Keep an eye out for our "Get to Know" blogs throughout the year and be sure to stop by our branches to say hello. Who knows? You may even spot a familiar face, like Steven Brand.