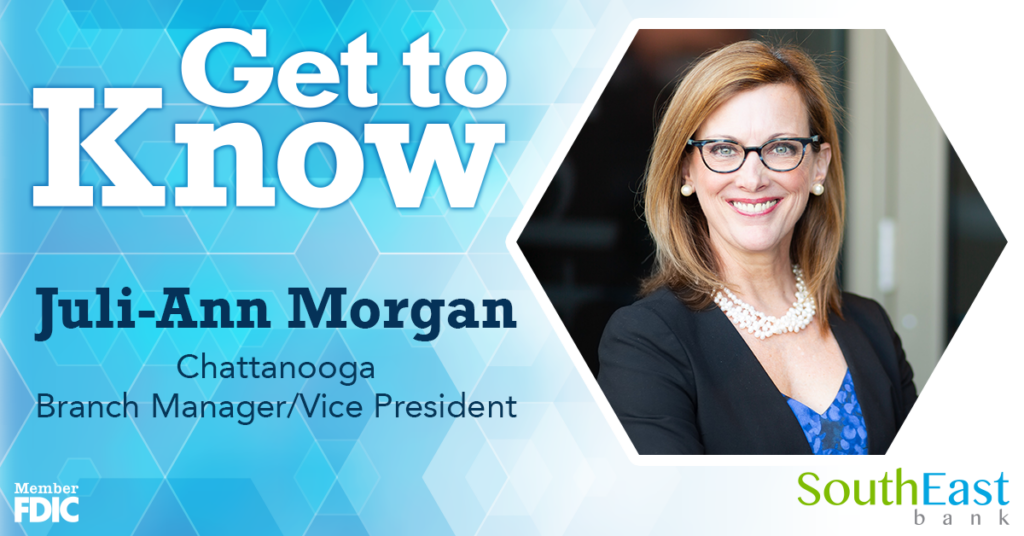 What motivates you? What's your favorite food? These are questions you may not often hear when you visit the bank.
That's why, in our "Get to Know" series, we're excited to introduce several of the employees who make SouthEast Bank stand out! Each month, it's our pleasure to share a few fun facts about some of the team members who make SouthEast Bank a great place to be.
Juli-Ann Morgan, our Chattanooga branch manager, goes above and beyond to meet her customers' banking needs. It's important, she says, to understand her customers' financial goals to provide them with the best possible service.
"I've worked in banking for going on nine years," Morgan said, "and I enjoy getting to know my clients and helping folks achieve their dreams."
Here are a few more things Juli-Ann shared with us in her interview:
What was your very first job, and what did you learn from it?
I worked for my grandfather at his dry cleaners. I learned that showing up on time and doing your best is important – I wasn't cut any slack because I was related to the owner!
How long have you lived in Chattanooga, and what do you like about the community?
I've lived in Chattanooga for 12 years, and I adore it! I'm an outdoor enthusiast so I love all the city offers in that arena. I'm also a foodie, and I appreciate that we have a thriving food scene that's constantly growing and changing.
Anything you'd like to share about your family/pets?
I'm married to my husband Brian, and we have two adult children, Mac and Annie. We also have two rescue dogs, Zoe and Maisy!
What is something that motivates you?
Deadlines! There's nothing more motivating than planning a party at my house – I can get a lot done when I know I'm under a deadline.
What's one fun fact that someone might not know about you?
I was a cheesemaker at Sequatchie Cove Creamery for almost three years. They make delicious artisan homestead cheese and have won awards all over the world for their Reblochon-style raw milk cheese.
One of the many benefits of local banking is working with a team that understands your community. Join us again in a few weeks to get to know even more SouthEast Bank team members!
---
Note: Links to other websites or references to services or applications are provided as a convenience only. A link does not imply SouthEast Bank's sponsorship or approval of any other site, service or application. SouthEast Bank does not control the content of these sites, services or applications.
Information contained in this blog is for educational and informational purposes only. Nothing contained in this blog should be construed as legal or tax advice. An attorney or tax advisor should be consulted for advice on specific issues.