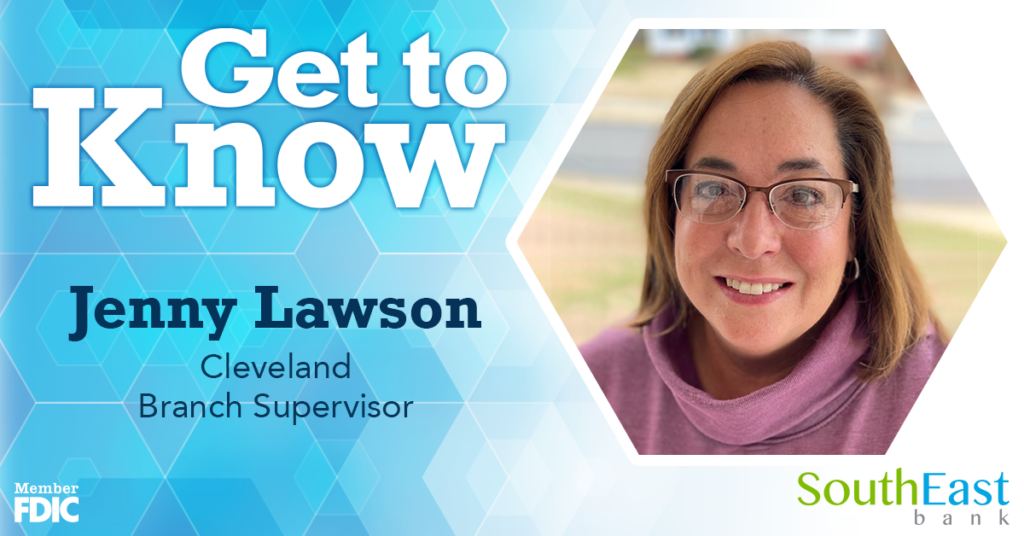 We're grateful to our branch teams for everything they to do make our customers' banking experiences outstanding. This week, we're excited to introduce another valued member of our team as part of our "Get to Know" series!
Jenny Lawson, our Cleveland branch supervisor, has been in banking for 20 years, and she has spent 15 of them at SouthEast Bank. Her expertise and positive attitude make her stand out as a leader and team member, and she's a pleasure to work with.
Jenny told us that she grew up in Cleveland, and the city has a special place in her heart. "Being a 'lifer' in Cleveland, there is never a week that goes by that a customer doesn't make a connection with me over having known my parents, grandparents or my husband," she said.
Here are a few of the other things that Jenny shared with us:
How long have you lived in your current city, and what do you like about the community?
I was born and raised here in Cleveland. I was the first graduating class of E.L. Ross Elementary, went to Cleveland Junior High School and continued to Cleveland High School. Go Raiders! One of the benefits of living in the community I grew up in is having long-term relationships with friends and neighbors and plenty of memories to share.
Anything you'd like to share about your family/pets?
My husband, Robert, and I have been together for almost 21 years, which has also blessed me with the opportunity to be a Bonus Mom to Erika and Mimi to Tori Beth. I am the middle child of three girls and my sisters have given me the opportunity to be the coolest aunt around – just ask my three nephews or my niece!
What are your favorite hobbies or activities outside of work?
When I'm not working, you will find me spending time with friends and family, relaxing in our backyard pool, or, when I am really lucky, spending time at the beach with family or on a girls' trip!
What is your favorite TV show, movie, book, or genre?
I enjoy watching medical and police dramas on television, which is how I also acquired my Grey's Anatomy medical degree (ha)! My favorite movies would include Sweet Home Alabama, Dirty Dancing and Grease. Yes, I'm an 80's girl all the way, which is why you will also always find classic rock and 80s hair metal on my radio or playlists.
What's one fun fact that someone might not know about you?
I lived in North Miami Beach, FL for a short time after graduation while attending a travel training program there. While the experience there was quite an adventure, the one thing I learned is that there is truly no place like home.
We're grateful for the opportunity to introduce many of our employees during our "Get to Know" series. Keep an eye out for more updates from our bank and get to know us a little bit better!