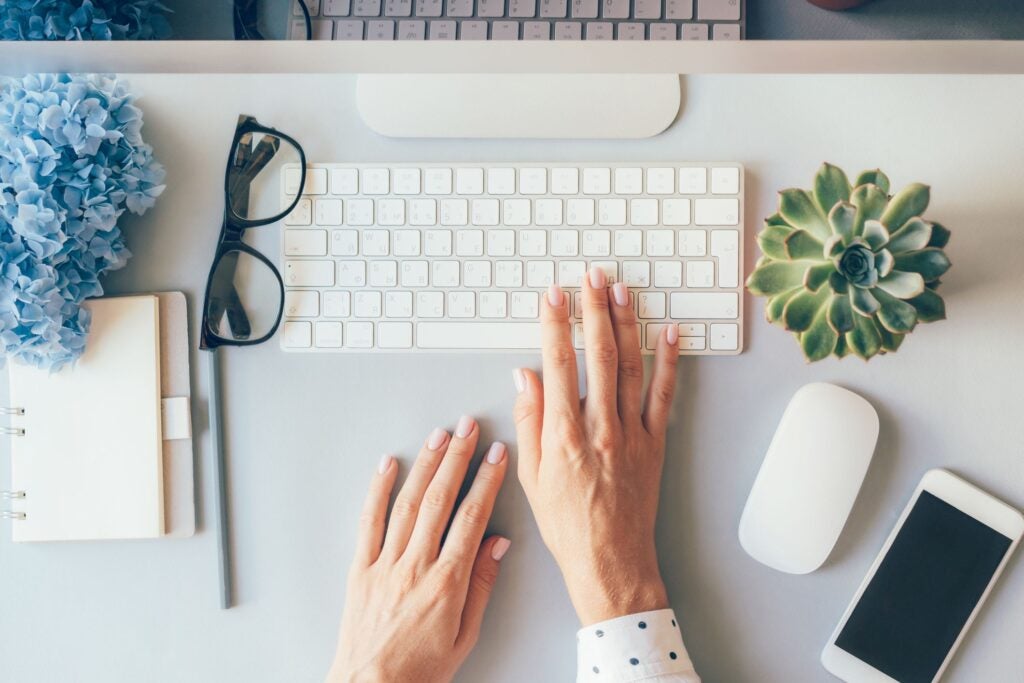 There are lots of reasons to freelance: more control over your schedule, flexibility in location, and the ability to work in your pajamas.
Freelancing is an increasingly popular career path. According to a 2020 study, approximately 59 million Americans freelanced in the past year, making up over a third of the country's workforce.
However, freelancing does have its challenges. When you work for yourself, you're responsible for keeping yourself on task and meeting deadlines, and it can be easy to fall behind.
Use these seven tips and tools for freelancers to boost your productivity:
1. Manage Assignments with Trello
If you are a freelancer with multiple clients or assignments, staying organized is a constant challenge. If you have trouble keeping track of your work, consider creating an account with Trello.
When you create a Trello board, you can schedule task assignments, break up projects into smaller steps, adjust timelines, and attach reference documents.
Trello is a collaborative tool, so you can give your clients access to your board. With Trello, your clients can quickly give you feedback on your work or complete their portions of the projects.
For individuals, Trello is free to use. If you want more advanced gestures or need additional storage space, you may need a business class membership that costs $10 per month.
2. Open a Separate Business Bank Account
Filing taxes as a freelancer is completely different than filing your taxes as an employee. You have to keep detailed records, and your business expenses and business income have to be completely separate from your personal finances.
If you haven't already, open a separate business bank account. The account is where your payments should go, and the money in the account can be used to pay for your business expenses.
Southeast Bank has multiple business checking accounts. Whether you have a small side hustle or a six-figure business, options are available that can suit your needs. For example:
Free Small Business Checking: This account has a $50 minimum to open. There's no minimum balance requirement, and it includes 250 transaction items and $10,000 in coin and currency deposits per statement cycle.
Business Bonus Rate Checking:1 For freelancers that maintain higher balances, the business bonus rate checking account may be a good option. You can earn 2.01% APY* on balances up to $30,000 when you enroll in eStatements and post and settle at least 15 business debit card transactions of $1 or more.
3. Use Calendly to Schedule Meetings
If you frequently have phone calls or Zoom meetings with clients, you know how time-consuming it can be to find a mutual time that works for both of you. You likely have to email each other several times to schedule a time.
You can eliminate the back and forth and save time by using Calendly to schedule meetings. Calendly syncs with your calendar, so your clients can see when you're available and when you're booked.
When you create a Calendly profile, you can send your clients a link so they can automatically schedule a time based on your availability. Calendly will even send reminders when your meeting is coming up.
The basic version of Calendly is free, but if you need more advanced features, premium versions range from $8 to $12 per month.
4. Track Your Business Credit Card With CardValet
If you use credit or debit cards for your business, you may be able to use CardValet to easily manage your card with your smartphone. If your bank offers access to the app, you can instantly turn your cards on and off, as well as set spending limits on where and how your cards are used.
CardValet also allows you to monitor your finances, showing you a dashboard with all of your card balances and transactions in one place.
5. Manage Payments Using Autobooks
As a business owner, you know how valuable time can be. Why spend hours keeping up with your cash flow and payments when you could let Autobooks manage them for you? This user-friendly program is designed with small business owners in mind.
From enabling you to send digital invoices, accept card payments through your website, schedule vendor payments and more, Autobooks is your one-stop-shop for small business bookkeeping. Best of all, SouthEast Bank makes the process of getting started with Autobooks easy. Visit our Autobooks webpage to learn more today.
6. Secure Your Computer With LastPass
As a freelancer, you likely use your computer all day. You may sign into dozens of different sites on a daily basis, including your bank, client portals, or personal website. To keep your information secure, you need to have multiple passwords, but managing many different usernames and passwords can be confusing.
An easier — and more secure — way to manage your passwords is to use LastPass. This tool uses a master password to store your usernames and passwords. And, you can use it to generate secure passwords. There is a free version of LastPass, but premium and family versions cost $3 to $4 per month.
7. Plan Your Social Media Posts With Buffer
No matter what your industry is, social media is increasingly important to connect with clients and consumers. To reach your target audience, you may have to create content for multiple platforms, such as Facebook, Instagram, and Twitter.
Keeping up a steady cadence of content is essential to build a following and increase engagement, but manually publishing posts can be time-consuming and disruptive. Instead, use a tool like Buffer to schedule your social media posts. With Buffer, you can also create analytic reports and engage directly with your audience.
While there are paid versions of Buffer, you can use it for free to manage up to three social media channels and schedule up to 10 posts.
---
*APY = annual percentage yield.
1To earn the full bonus, each statement cycle the account must be enrolled in eStatements and post and clear 15 qualifying debit card transactions of $1 or more. If all qualifications are met during the statement cycle, the account will earn 2.01% APY* on balances of up to $30,000 and .20% APY* on balances over $30,000. If bonus qualifications are not met during the statement cycle, the account will earn .05% APY.*
Interest earnings are based on daily collected balances and are credited monthly to the account. Qualifying transactions include point of sale or online purchases using the SouthEast Bank debit card. ATM and cash-only transactions do not qualify towards minimum debit card transaction amount. Fees may reduce earnings. Some fees and restrictions apply. Rates are accurate as of 5/1/21. Rates are variable and subject to change after account opening.
Note: Links to other websites or references to services or applications are provided as a convenience only. A link does not imply SouthEast Bank's sponsorship or approval of any other site, service or application. SouthEast Bank does not control the content of these sites, services or applications.
Information contained in this blog is for educational and informational purposes only. Nothing contained in this blog should be construed as legal or tax advice. An attorney or tax advisor should be consulted for advice on specific issues.